These are the details of the US Embassy in Cameroon. The American Embassy in Cameroon is located in the city of Yaounde. If you are looking for a US visa be this an immigrant visa such as a K1 Visa or K3 Visa then speaking to the staff would be the first port of call for advice. If you wish to visit the US on a US tourist visa then this can also be discussed.
US Embassy in Cameroon
For US citizens in Cameroon the US Embassy can assist you with registering a birth abroad, issue you with a new US passport or renew your US passport. They can also notarize documents for you and assist you in the event of an emergency. The contact details for the Embassy has been listed below with a map to the embassy in Yaounde. Note the Embassy is close to Carrefour Golf.
You can also read the post on CR1 visa application if you are taking your wife back to the US. You will first need to register your marriage in the country. Now in Cameroon the minimum age for marriage is 21 years for men and 18 years for women. Both parties must freely consent to the marriage, and it must be registered with the government. Much like you would find in Eritrea, polygamous marriages are allowed. All parties however have to consent to this. When it comes to the US visa only one can hold the position as wife. See also the K4 visa requirements for the children as well as the K3 visa advantages as well as the rules under the US Embassy in Botswana as well as US Embassy in Burkina Faso.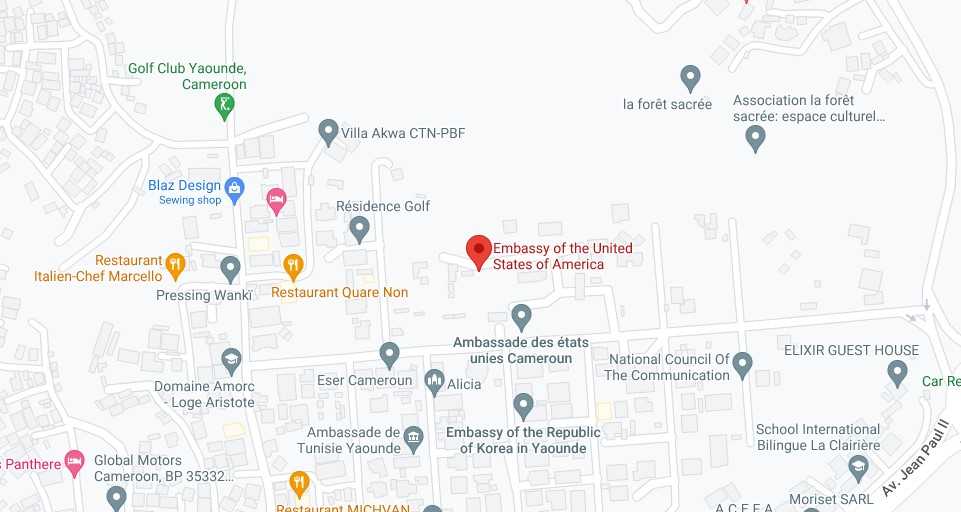 US Embassy Yaoundé, Cameroon
Address : Avenue Rosa Parks, Yaounde, Cameroon
Phone:  (237) 22251-4000 / (237) 222-201-500
Fax: (237) 22251-4000  x 4531

Non-Emergency Services
Additionally American Citizen Services hours:
Tuesday & Thursday: 1:00pm – 3:00pm – Appointments
Friday: 9:00am – 11:00am – Appointments & products' pick up

See also the US Embassy in Senegal and the US Embassy Central African Republic details on here just as the US Embassy in Cape Verde.
Incoming search terms: