This is how to start and complete your CR1 Visa application. If you are married and have not been married for more than 2 years. Then you can apply for a CR1 Visa where you are.If you have been married for more than two years then you can apply for an IR1 visa.  This is the CR1 Visa process in order to bring your wife to the United States as quickly as possible.
CR1 Visa Application
If you are married to a person who is your spouse then you can apply for the CR1 visa. This is if you have been married for less than two years while abroad. You will note that marriage means that you marriage has been registered with the local government where you are. The traditional marriages are not seen as valid for the CR1 visa or for that matter an US spouse visa. In other words your traditional or common law wife cannot use this visa. If you have more than one wife then only the legally registered wife can apply under this US visa class.
The First Step Toward the CR1 Visa: Filing the Petition
The very first step is to file for the Alien Relative, Form I-130, with the US Citizenship and Immigration Services (USCIS) being for your spouse be this your husband or your wife. This is so that they can immigrate to the United States. For instructions on how to file a petition read further below for more information. This is where the CR1 Visa application starts.
Note that you can now file online: See here
If you are going to use a US immigration lawyer which is highly advised then read further. This so that you can get an idea as to what this entails. The I-130 form is used in a number of instances and not only for your wife.
What is the I-130 Form used for?
The form is also used in other instances such as:
Family Based Petition for an Adopted Child
US Citizen Petition for a Spouse
Green Card for Family Members of a Permanent Resident
US Citizen Petition for a Preference Relative to Become a Lawful Permanent Resident
US Citizen Petition for an Immediate Relative to Become a Lawful Permanent Resident
Approval of the I-130 Form
They generally approve the Form I-130 if you can show and actual relationship between you and your relative that qualifies them to immigrate to the United States. Once this has been approved then your wife can apply to become an LPR (getting a Green Card). If your wife is already in the United States and a visa is available, they may be eligible to get their Green Card by filing Form I-485, as you can see.
Note that certain relatives must wait until a visa number is available. This before they can apply for either a Form I-485 (to adjust their status if they are in the United States) or for a visa (if they are outside the United States). If your relative qualifies as an immediate relative, however, an immigrant visa is always available.
Completing of the I-130 Form
Now when you are busy completing the Form I-130. It is important that you as the petitioner select only 1 option when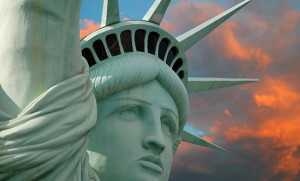 indicating that your wife/husband intends to apply for his/her adjustment of status inside the US. This or will pursue visa processing abroad. Note also that should the Form I-130 is still pending with then and you changed your mind and want to change your selection (consular processing abroad or adjust status in the US), you will need to contact the USCIS contact center to effect this change. If that is too late then you would have to file the Form I-824 which is the Application for Action on an Approved Application or Petition. The CR1 Visa application can become complicated.
Note that in certain circumstances, if you live abroad you can file an immigrant visa petition outside of the United States.
US Sponsor Minimum Age Requirement
The minimum age for a US sponsor (petitioner) to be able to  file a petition for a spouse is 18 years old. You must also have a residence as in a permanent residence or domicile. This needs to be as you will need to sign the Affidavit of Support (Form I-864 or I-864EZ). This immigration form is needed for an immigrant visa for your spouse. Note again that as the US sponsor or petitioner for the visa you must maintain your principal residence in the United States.
Visa Fees
There will also be the visa fees with the CR1 visa application. These are listed as follows:
Filing an immigrant Petition for Alien Relative, Form I-130 (this fee is charged by USCIS).
Processing an immigrant visa application, Form DS-260 (see Note below)
Medical examination and required vaccinations (costs vary)
Other costs may include: translations; photocopying charges;
Required Documentation
Passport must be valid for six months beyond the intended date of entry;
Affidavit of Support (I-864, I-864A, I-864 EZ, or I-864W, as appropriate) from the you the petitioner;
Form DS-260, Immigrant Visa and Alien Registration Application.
Two (2) 2×2 photographs.
Civil Documents for the applicant. See Documents the Applicant Must Submit for more specific information about documentation requirements, including information on which documents may need to be translated. The consular officer may ask for more information during your visa interview. Bring your original civil documents (or certified copies) such as birth and marriage certificates, as well as legible photocopies all original civil documents, and any required translations to your immigrant visa interview.
Completed Medical Examination Forms – These are provided by the panel physician after you have completed your medical examination and vaccinations (see below).
For the US visa interview, you will need to schedule and complete your medical examination and any required vaccinations before your visa interview. From there you will obtain your US CR1 visa. Note also the K4 visa requirements for minor children or child as well who will follow behind the CR1 visa application.
It is highly recommend that you use a US immigration lawyer for this process.

Incoming search terms: