If you are in Thailand then can ask for consular assistance at the US Embassy in Bangkok. Now if you are looking for a US visa then you will need to speak to an attorney in Thailand about that. If you are looking for a letter from the Embassy to register your Thai marriage and need a freedom to marry letter or letter of affirmation then see the linked website for more details.
US Embassy in Thailand
The contact details with a map tot he Embassy and Consulate has been added below. See more details on the US spouse visa as well as the US fiancee visa on this website. If you lost your passport then you will need to report your passport as stolen to Thai police. The case number they give you will be needed for you new passport to be issued. You will also need to keep this case number for Thai immigration as they will need that case number with your new passport to move you Thai visa from your lost passport to your new passport. If you are getting married.
You will need to have to obtain a freedom to marry letter and then have this certified at Thai Foreign Affairs and then translated. Also you can then register your marriage in Thailand at the local amphur office. You can then apply for a marriage visa. This process take about a week to complete to register the marriage and obtain the visa take about 30 days.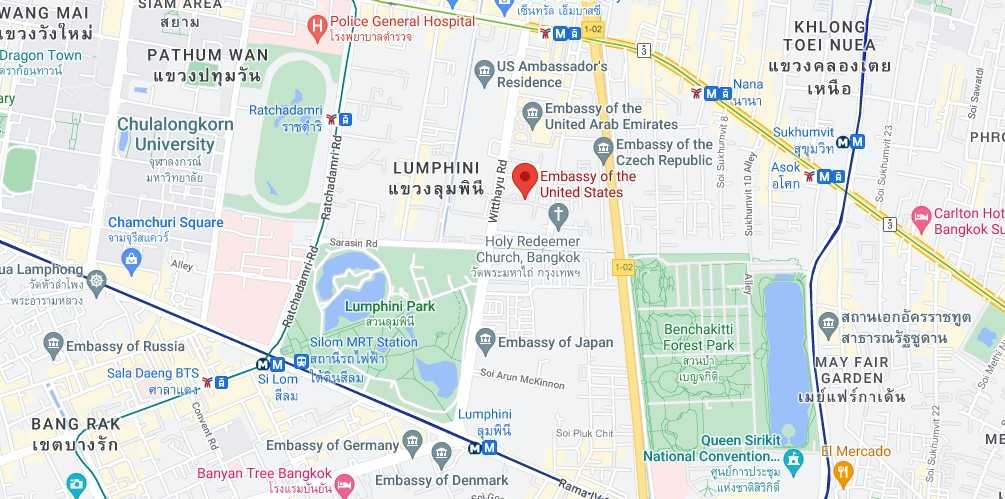 See also other Embassies in the region. The US Embassy in Singapore as well as the US Embassy in Thailand. There is also the US Embassy in Vietnam as well as the US Embassy in Japan and US Embassy in Indonesia as well.
Details for US Embassy in Thailand
Address: 95 Wireless Road, Bangkok 10330, Thailand
Tel: +66-2-205-4000
E-mail Inquiries:
Email inquiries for both nonimmigrant and immigrant visas should be directed to: 
Call Center representatives are available:
Monday – Friday:  8:00 a.m. – 8:00 p.m. (excluding Thai and U.S. holidays)
Local telephone: 02-105 4110; from the U.S. (703)-665-7349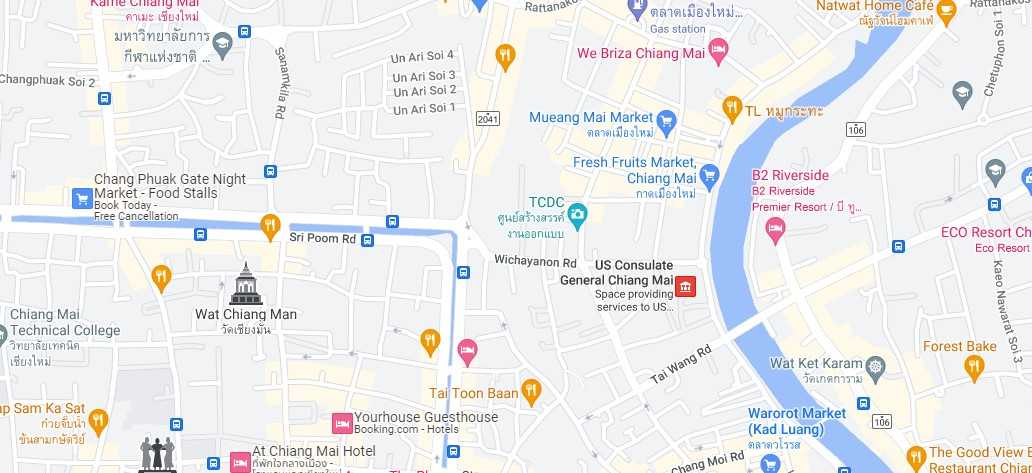 US Consulate in Chang Mai
Address : 387 Witchayanond Road, Chiang Mai 50300, Thailand
Phone: +66-53-107-700
Fax: +66-53-252-633

See also the register a birth abroad article as the child will need to be registered in Thailand first. The registration needs to be taken to the US Embassy in Bangkok to start the registration as an American citizen born abroad. See also the US fiancee visa process as well as the US Embassy in Nepal.
Incoming search terms: