The US Embassy in Bulgaria serves as a vital diplomatic mission, fostering strong relations between the United States and Bulgaria. Located in Sofia, the capital city, the Embassy plays a crucial role in promoting bilateral cooperation, facilitating trade and cultural exchanges, and providing consular services to both U.S. citizens and Bulgarian nationals.
US Embassy in Bulgaria
The Embassy houses various departments and offices, each contributing to the multifaceted relationship between the two nations. The Consular Section, for instance, offers a wide range of services, including visa processing, passport issuance, and assistance for U.S. citizens residing in or traveling to Bulgaria. Additionally, the Embassy's Political and Economic Sections work to enhance political dialogue, support economic development, and promote shared values and interests. Likewise see also the Adoption from Bulgaria as well as the US Embassy in Croatia. In addition also see the Complete the DS-160.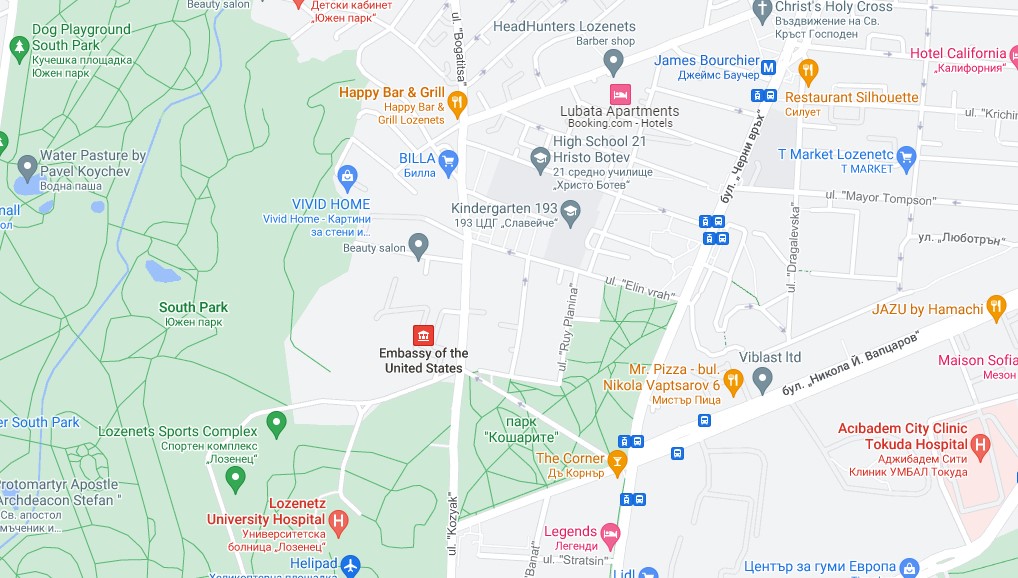 US Embassy in Sofia
16, Kozyak Street, Sofia 1408, Bulgaria
Tel:  +359 2 937 510

US Citizen Services
If you are an American citizen in Bulgaria with an after-hours emergency, please call (359) 2 937 5101.  No documentary or passport services are available evenings, weekends or holidays.

US Visa
Please visit our Global Support Services (GSS) website for complete information on applying for a nonimmigrant U.S. visa, including a directory of nonimmigrant visa categories. To contact a customer service representative, please visit the GSS Contact page or use the contact information provided below:
Email: To reach a customer service representative via email, please write to . Alternatively, for inquiries directed to the U.S. Consulate in Sofia, please write to: .
Telephone: For telephone inquiries, please contact a customer service representative using one of these numbers:
Callers in Bulgaria: Dial 02 4916 461.
Callers in the United States: Dial 1-703-988-7106.
Interview Appointment Information: Fax: You may send relevant documents or inquiries via fax to +359 (2) 937-5209.
Email: For interview appointment information, please email .
Inquiries about Nonimmigrant Visas may be made only in writing and addressed to the attention of the Chief of Consular section: Fax: For written inquiries, you can also send a fax to +359 (2) 937-5209. E-mail: Additionally, you can reach out via email to .
Postal Address from the U.S.: If you prefer to communicate via mail, please use the following postal address: Consular Section, Attn: Nonimmigrant Visa Unit Department of State 5740 Sofia Place Washington, DC 20521-5740.

Passport Renewal
Paying online offers the convenience of mailing your application to the U.S. Embassy instead of applying in person. Moreover, qualifying adult passport renewal applicants have the option to pay the $130 passport renewal fee online through various payment methods such as U.S. or international credit or debit cards, electronic funds transfer from a U.S. based bank account, Amazon Pay, or PayPal.
To determine if you are eligible for online fee payment, please refer to the checklist provided. It is important to note that the processing time is approximately four weeks from the receipt of your application and payment.
If you meet the following criteria, you can pay online and renew your passport by courier:
You possess your most recent passport.
Your most recent passport was issued when you were at least 16 years old. However, if your most recent passport was issued before you turned 16, you must apply as a first-time applicant.
The issuance of your most recent passport was within the past 15 years. In case your most recent passport was issued more than 15 years ago, you must apply as a first-time applicant.
Your current name matches the name on your most recent passport, or you have legally changed your name through marriage or court order and can provide proper documentation as evidence.
Passport Process
To complete the DS-82 Passport Renewal Form for processing by courier and online fee payment (applicable to U.S. citizens residing in Bulgaria), please follow these steps:
Step 1: Fill out the DS-82 Passport Renewal Form in its entirety, ensuring that you sign and date the form as indicated.
Step 2: Obtain a recent color passport photo measuring 2″ x 2″ (5 x 5 cm), taken within the past 6 months. The photo should depict your full face in a frontal view against a plain white or off-white background. Detailed information on photo requirements can be found.
Step 3: Include the passport you are renewing in the package you mail to the Embassy. Remember to sign your passport before including it.
Step 4: Include a photocopy (color or black and white) of the data page of your current passport.
Step 5: If your current passport was issued more than a year ago and you wish to change your name on the new passport due to marriage, divorce, or court order, include appropriate proof of the name change. Original documents with an English translation, if necessary, should be submitted. These documents will be returned to you along with your new passport.
Payment Process
Step 6: Make the payment of the $130 passport application fee through the U.S. government's secure payment site. After successful payment, print out the electronic payment confirmation received via email and include it in the package sent to the Embassy. Use your current legal name in the name fields, even if it differs from your previous passport.
If you are making a payment on behalf of another passport renewal applicant, enter their name. All fields are mandatory. Please note that this form can only be used to pay for one passport application at a time, and fee payments for multiple renewal applications must be submitted separately.
Step 7: Likewise request a DHL courier pick-up by dialing 0700 17 700 (press 1) and provide the DHL account number 316103248.
Step 8: Visit http://92.247.68.203/ to arrange DHL delivery of the new passport. Additionally the Embassy will receive a waybill for your convenience. The current cost of delivery is 8.78 BGN for one-way transportation.
In addition if you are eligible to pay online and submit your application by courier, they highly recommend utilizing this method instead of scheduling an appointment at the Embassy.

Register a Birth Abroad
To establish an official record of your child's claim to U.S. citizenship at birth, it is crucial for you, as U.S. citizen parent(s), to promptly report the child's birth abroad to the U.S. Consulate. The Consular Report of Birth Abroad (CRBA), specifically Form FS-240, serves as the fundamental document affirming United States citizenship.
A CRBA is issued to a child born outside of the United States to one or both parents who are U.S. citizens and meet the requirements for transmitting citizenship under the Immigration and Nationality Act (INA).
It is essential to submit CRBA applications before the child reaches the age of 18, and they strongly advise parents to initiate the application process as soon as possible after the child's birth. In cases where individuals aged 18 or older have never obtained a CRBA, please refer to the information regarding Possible Derivative Claim to U.S. Citizenship. It is important to note that individuals with a valid claim to U.S. citizenship must possess a valid U.S. passport for entry and exit from the United States, even if they hold citizenship of another country as well.

Getting Married in Bulgaria
If you are a U.S. citizen intending to marry a Bulgarian citizen in Bulgaria. Likewise it is necessary to comply with the requirements of the Bulgarian authorities. They mandate that you provide a sworn statement, made in the presence of a U.S. consular officer. In addition to affirming your legal eligibility for marriage. However, if the American citizen possesses dual citizenship and is also a Bulgarian citizen, this statement is not required.
The Consular Section is responsible for preparing the statement. Note that it includes the complete name of the American citizen (please bring your U.S. passport). This and the full name, date of birth, and current address of the Bulgarian citizen spouse. Likewise a fee of $50 is applicable for the notarization of this statement. Additionally payable in cash (U.S. dollars or Bulgarian leva) or by credit card. Accepted credit cards include Visa, MasterCard, American Express, Discover, and Diners. Please note that personal checks are not accepted.
To ensure a smooth process, it is important to schedule an appointment in advance. Once you have scheduled the appointment, kindly contact them at to provide the full name of your fiancée if they are accompanying you. Please be aware that they maintain the right to reschedule your appointment if you arrive late or are unprepared.
After obtaining the sworn statement. It must be presented to the Consular Section of the Bulgarian Ministry of Foreign Affairs for authentication. This before your marriage can take place. The address for the Consular Section is 2, Alfred Nobel Str., and you can reach them at Tel.: 02/948 29 99.