If you live in Belarus or are visiting then you should consider speaking to the staff at the US embassy in Belarus if you find yourself in trouble. The Embassy is located in Minsk. They can provide consular assistance such as a notary, register a marriage, birth or death while in Belarus. We have the contact details listed below.
Note there is a street address, a map to the embassy in Minsk and also their telephone details and other contact information.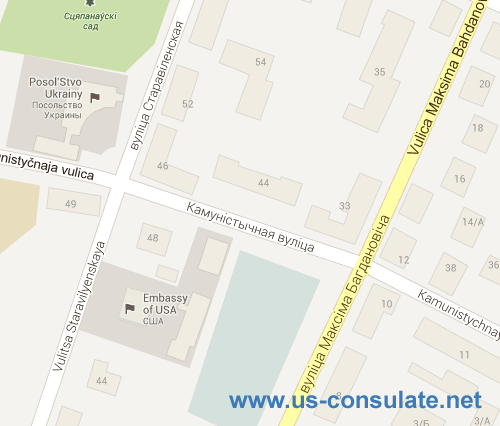 United States Embassy in Minsk
46 Starovilenskaya St.
Minsk 220002, Belarus
Telephone: +375 17 210-12-83 : 217-7347 : 217-7348
Fax: +375 17 334-78-53
E-mail:
Business Hours
Embassy is open Mon-Fri from 8:30 a.m. to 5:30 p.m. Closed on US and Belorussian holidays.
Public Holidays in Belarus
Holiday
Date/Day
    Type
New Year's Day
January 1, Monday
US/Bel
Christmas Day
(Orthodox)
January 7, Monday
Belarusian
Martin Luther King's
Birthday
January 21, Monday
American
Washington's
Birthday
February 18, Monday
American
Women's Day
March 8, Friday
Belarusian
Easter Monday (Cath.)
April 1, Monday (observed)
Belarusian
Labor Day
May 1, Wednesday
Belarusian
Easter Monday (Orth.)
May 6, Monday (observed)
Belarusian
Victory Day
May 9, Thursday
Belarusian
Radunitsa
May 14, Tuesday
Belarusian
Memorial Day
May 27, Monday
American
Independence Day
July 3, Wednesday
Belarusian
Independence Day
July 4, Thursday
American
Labor Day
September 2, Monday
American
Columbus Day
October 14, Monday
American
Dziady
November 1, Friday (obs.)
Belarusian
Veteran's Day
November 11, Monday (obs.)
American
Thanksgiving Day
November 28, Thursday
American
Christmas Day
(Western)
December 25, Wednesday
US/Bel
0
0
Incoming search terms: