If you live in Belarus or are visiting then you should consider speaking to the staff at the US Embassy in Belarus if you find yourself in trouble. The Embassy is located in Minsk. They can provide consular assistance such as a notary, register a marriage, birth or death while in Belarus. We have the contact details listed below.
US Embassy in Belarus
Note there is a street address, a map to the embassy in Minsk and also their telephone details and other contact information. If you are an expat or tourist. Should you lose your passport then you need to report this to the police. The local police will give you their case number. This will be needed when you apply for a new passport or where you need a temporary travel document to return home.
If you are living in the country and have a child born. The child has to be registered with the local government and you will need to ensure that you have all the needed documents. See the born abroad page which will explain how to register the child born abroad as an American. If you are married and returning home. Then see how to apply for a CR1 visa from the country for your wife. Also look at the US spouse visa documents needed. Also remember that that children will need a K4 visa so see the requirements for a K4 visa as well. The forms are on here as well. See the I130 form to see what is needed.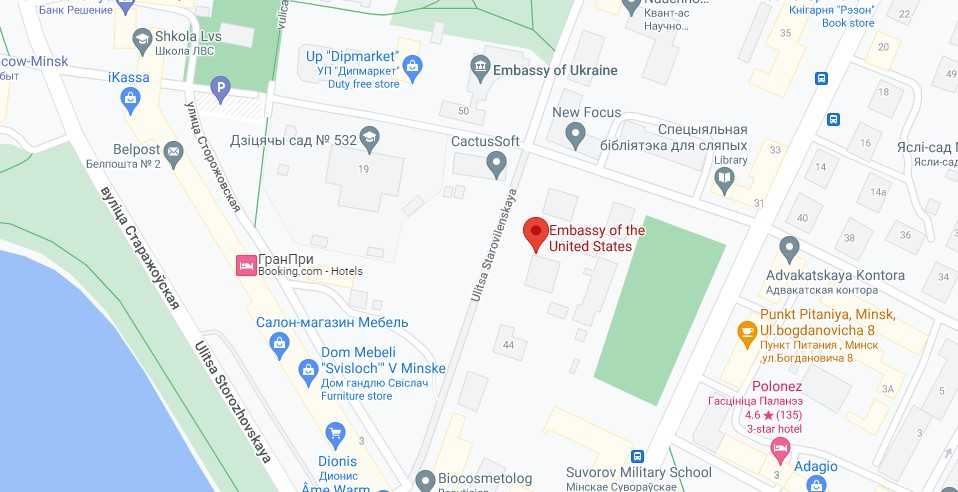 US Embassy Minsk
Address: 46 Starovilenskaya St. Minsk 220002, Belarus
Phone: +375 17 210-12-83 / 217-7347 / 217-7348
Fax: +375 17 334 78 53

US Visa Services
Address: 46 Starovilenskaya St. Minsk 220002, Belarus
Working hours: Monday-Friday from 8.30 to 17.30 except Belarusian and American holidays.

There are other Embassies as well. These are the US Embassy in Spain as well as the US Consulate in Melbourne.
Incoming search terms: