Yerevan is where you will find the US Embassy in Armenia. If you are in Armenia and need consular assistance then speak to the Embassy staff in Armenia. If you need to apply for a US passport or renew a US passport then the Embassy will be able to assist you as well. You can also register a marriage at the Embassy and seek assistance with a notary service.
US Embassy in Armenia
The Embassy in Yerevan will also be able to assist with a US visa be this a US visitor visa, marriage visa or spouse visa. Note the Google map to the Embassy as well as the contact details and operating hours of the US Embassy in Armenia. Should you be on holiday and lost your passport. This will need to be reported to the police. They will give you a case number that the US Embassy will need in order to issue a new passport. When you apply for a US passport in Armenia you can also wait for a travel document which will allow you to fly home.
If you gave birth and your want to register an American born abroad you will need to follow the procedures. The child will need to have been registered with the Armenian authorities. There are also other documents that will be needed from you at the Embassy. Also if you are getting married you will need to ensure that you have your original divorce or death certificate of the ex-spouse. The freedom to marry letter will need to be verified, translated and then certified to be accepted in Armenia. For the US visa for your spouse you can read the US spouse visa documents that are needed. There is also the applying for a K1 Visa for your fiancee.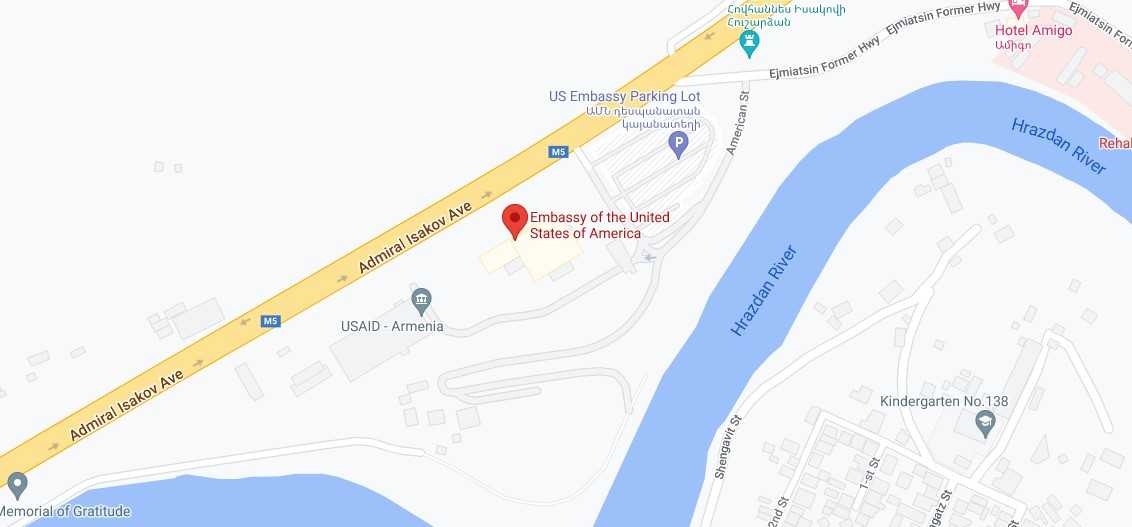 US Embassy Yerevan
Address: 1 American Avenue, Yerevan 0082, Republic of Armenia
Telephone: (+37410) 464-700
Fax: (+37410) 464-742

If you need immediate assistance, please contact the U.S. Citizen Services section via email at . Our phone number is (+374) 10 49 45 85.
There are other Embassies as well such as the US Embassy in South Africa as well as the US Embassy in Belgium.
Incoming search terms: