If you live in Austria as an American then you will find the US Embassy in Austria located in the city of Vienna. You can also seek assistance at the Embassy in the event of an accident or arrest. They will be able to assist you with a US visa, marriage registration and also death registration.
US Embassy in Austria
We have listed the contact details of the Embassy below with the contact details and a map to the US Embassy in Vienna and also the operating hours in the event you need to visit the Embassy. If you lost your passport then this needs to be reported to police for a case number. The case number will be needed by the Embassy in order to obtain a US passport. Without the case number they are not going to assist you. This can be a passport or an emergency travel document. This so that you can only fly home.
If you are getting married. You will need to have a freedom to marry letter from the Embassy. If you are divorced then you will need to have the original divorce decree or the original death certificate of your late spouse. Once this is handed in you will need to wait a day or two for this document. This will need to be certified, translated and then certified. The documents can then be used to register your marriage in Austria.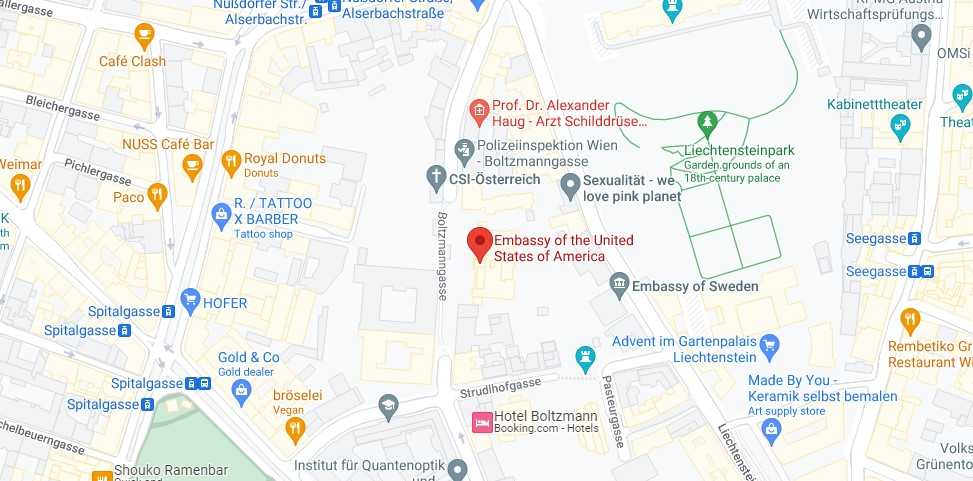 US Embassy in Austria
Address : Boltzmanngasse 16, 1090 Vienna
Tel.: (+43-1) 31339 0
Fax: (+43-1) 31339 2017

Consular Assistance
Address: Parkring 12a, 1010 Vienna
Mail : U.S. Embassy, Consular Section, Attn: U.S. Citizen Services, Boltzmanngasse 16, 1090 Vienna
Fax: (+43 1) 512 58 35
If you apply for a US visa from Austria then you might be interest in the US visa interview questions page on here.
Contact us by E-Mail to:               
 to inquire about matters pertaining to U.S. Citizens
 to inquire about Non-Immigrant Visas
 to inquire about Immigrant Visas
Telephone Inquiries:
Visa Information/Visa Application Appointment Hotline 
(Live Operators): Tel.: (+43) (0) 72011 6000
Monday – Friday,  9:00 am – 5:00 pm (local Austria time)
For callers from the U.S., Tel.: 1 (703) 520 2562
Monday – Friday, 7:00 am – 3:00 pm EST
Appointments and General Information: 

See also the US Embassy in Mauritius as well as the US Consulate in Melbourne and US Embassy in Azerbaijan.
Incoming search terms: