The US Embassy in Bangladesh is located in Dhaka and is near to the British embassy in Dhaka and also the Thai Embassy in Bangladesh. If you are in need of a new passport or consular assistance as an American then this Embassy will be able to assist you. See further details on here for the Embassy as well as Consulates in the country.
US Embassy in Bangladesh
There is also a US Consulate in Chittagong, Jessore and Sylhet. We have listed the telephone numbers below with a map to the Embassy and US Consulates in Bangladesh.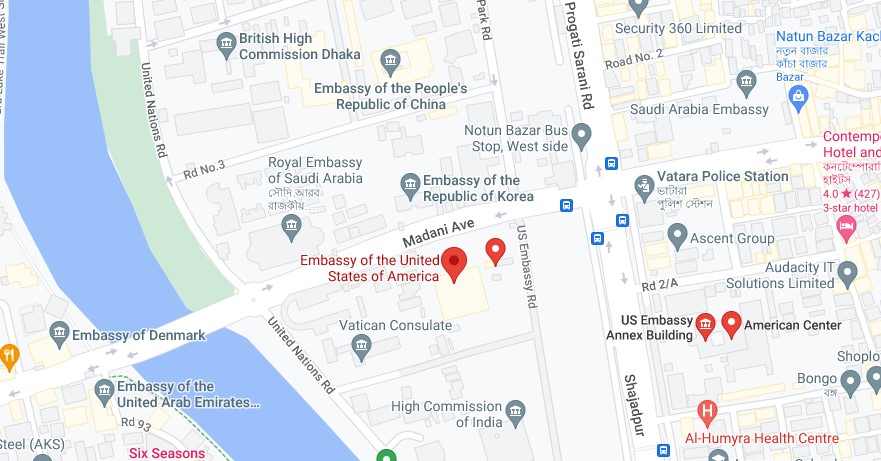 Details for the US Embassy in Dhaka
Address : Madani Avenue, Baridhara, Dhaka -1212, Bangladesh
Tel: (880) (2) 5566-2000
If you are a US citizen in need of emergency assistance (available 24/7)

Normal operating hours: call (880) (2) 5566-2000 and ask for the American Citizen Services.
After hours: call (880) (2) 5566-2000 and dial "0" to reach the Duty Officer.

US Visa Applications
To contact a customer service representative:
Email:
Visa Fraud, Malfeasance or Crime Tips: 
Telephone:
Within Bangladesh: 09610202040
Within the United States: 703-988-3466

See also the US Embassy in Thailand as well as the US Embassy in Nepal.
Incoming search terms: