There is a US embassy in Morocco. The US Embassy in Morocco has been listed below with contact details and a map to the US embassy. The US consulate in Rabat can issue you with a passport as a US citizen and provide you with consular assistance such as registering a birth, marriage or death while in Morocco. The Thai embassy in Morocco is not far from the US Embassy in Rabat as well as the British Embassy in Morocco.
US Embassy in Morocco
2 Avenue de Mohamed El Fassi
Rabat, Morocco
Telephone: (212)(537)-76-22-65
Fax: (212)(537)-76-56-61
After-hours telephone: (212)(537)-76-96-39
Casablanca telephone: (212) (522)-26-45-50
The Embassy's working hours are:
Monday – Friday    from 8:00 – 17:00.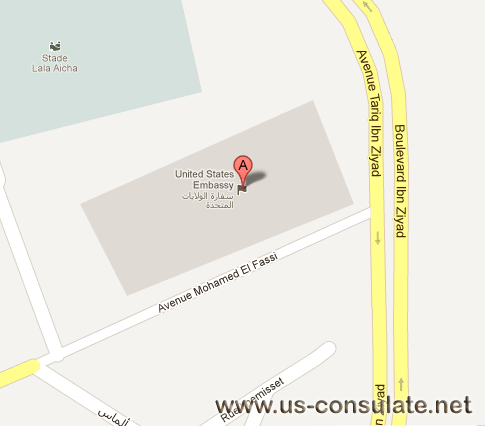 .
.
.
.
.
.
.
.
.
.
US Embassy holidays in Morocco.

Note the embassy holidays in Morocco for the US embassy and also note the travel advice for Morocco as listed on another website if you are visiting Morocco. Dates do change so always call the US embassy before you visit the embassy to ensure that they are open.
| | | | |
| --- | --- | --- | --- |
| DATE | DAY(S) | HOLIDAY | REMARKS |
| January 1 | Tuesday | New Year's Day | U.S. |
| January 21 | Monday | Martin Luther King's Birthday | U.S. |
| January 24/25 | Thursday & Friday | Aid Mawlid Annabaoui | Moroccan |
| February 18 | Monday | President's day | U.S. |
| May 1 | Wednesday | Moroccan labor day | Moroccan |
| May 27 | Monday | Memorial day | U.S. |
| July 4 | Thursday | American Independence day | U.S. |
| July 30 | Tuesday | Feast of the throne | Moroccan |
| August 8/9 | Thursday/Friday | Aid Al Fitr | Moroccan |
| August 21 | Wednesday | Youth Day-King's Mohammed VI birthday | Moroccan |
| September 2 | Monday | American Labor Day | U.S. |
| October 14 | Monday | Columbus day | U.S. |
| October 15/16 | Tuesday/Wednesday | Aid Al Adha | Moroccan |
| Â  November 5 | Tuesday | First Moharram | Moroccan |
| November 11 | Monday | Veteran's Day | U.S. |
| November 18 | Monday | Feast of Independence | Moroccan |
| November 28 | Thursday | Thanksgiving day | Â U.S. |
| December 25 | Wednesday | Christmas day | U.S. |
Incoming search terms: