The US Embassy in Madagascar is in the city of Antananarivo and they will assist you with a new passport or add pages in if the passport is full. We have listed the telephone,street address and contact numbers to the listing including a map to the US embassy in Antananarivo.
If you are getting married in Madagascar then you can obtain a certificate of capacity to marry while in the country. They can also assist you if you have been involved in an accident and also notarize documents for you while in the country. Speak to the staff at the embassy if you are wanting to apply for a US visa such as a non-immigrant visa or an immigrant visa such as a K1 visa or K3 marriage visa. Note the operating hours of the embassy and always ensure that you call them before you visit the embassy.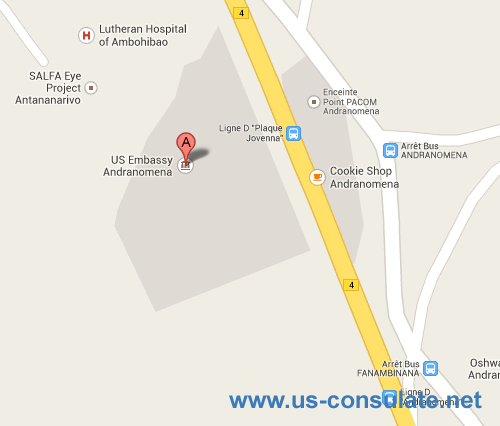 US Embassy in Madagascar
Lot 207 A, Point Liberty
Andranoro, Antehiroka
105 Antananarivo
Tel: (261) (23) 480 00/01
Fax: (261) (23) 480 35
Hours of Operations:
For the Embassy:
Monday through Thursday: from 7:30a.m. to 5:00p.m.
Friday: From 7:30 a.m. to 1:30p.m.
Incoming search terms: