If you live in Nigeria or are on holiday then you will find the US Embassy in Nigeria at the following locations : The US Embassy in Abuja and the US Embassy in Lagos. You can contact these two if you are in need of assistance or wish to apply for a US visa.
US Embassy in Nigeria
You can seek assistance if you are needing to replace you US passport or obtain an emergency passport. You can also register a marriage abroad and also register a birth while abroad. Note that the Embassy can also assist you if you need to have documents notarized or need to apply for a US visa. These visas can be immigrant visas or non-immigrant visas as it all starts in the US with the USCIS. Note the contact details below for the Embassies and also their locations. We have added a map to the US Consulate in Lagos and also a map to the US Embassy in Abuja.
See also the National Visa Center if you are applying for a US visa. You can also see other Embassies in the region. These include the US Embassy in South Africa as well as the US Embassy in Senegal and the US Embassy in Rwanda.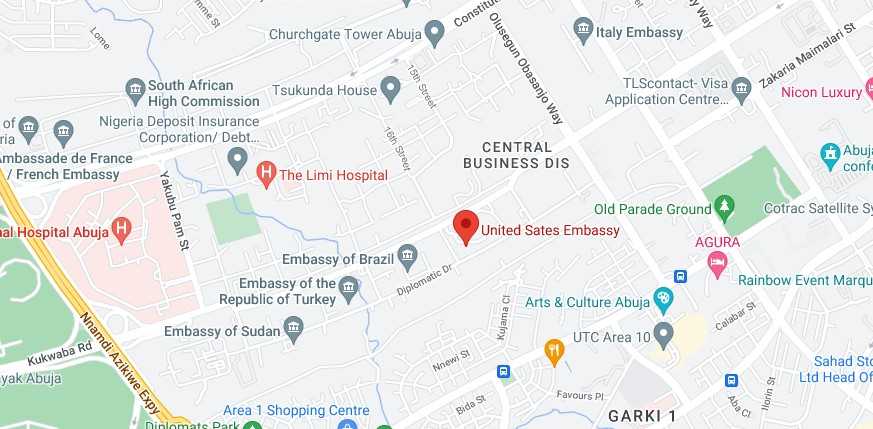 Details of the US Embassy in Abuja
Address : Plot 1075 Diplomatic Drive, Central District Area, Abuja.
Telephone: (234)-9-461-4000
Fax: (234)-9-461-4036
U.S. Citizens with emergencies, please call 09461 4000
Outside of Office Hours, contact: 09 461 4000
Outside of Nigeria: +234 9 461 4000

Details of the US Consulate in Lagos
Address: 2 Walter Carrington Crescent, Victoria Island, Lagos
Phone : (234)-1- 460-3400
Fax: (234)-1-460-3717
U.S. Citizens with emergencies, please call +234 (1) 460-3400
Outside of Office Hours, contact: +234 (1) 460-3400
Outside of Nigeria:  +234 (1) 460-3400

Consular Assistance
American citizens are welcome to write to  or 
General visa questions may  be directed via e-mail to the State Department by emailing  or 

Incoming search terms: