The Capital City of Praia is where the US Embassy in Cape Verde is located. We have listed the telephone numbers, street address and also a map to the Embassy on the island. Note that you should always call the Embassy before you visit to ensure that they will be on on that day.
US Embassy in Cape Verde
The US Embassy in Cape Verde can assist you with a US passport renewal. They can also provide you with other consular services such as registering a birth abroad. This as well as providing you with a letter of affirmation also known as a capacity to marry certificate. They can also provide the services for a public notary and register a marriage abroad.
Should you lose your passport or your passport is stolen. This has to be reported to the police. Your case number will be needed by the Embassy in order to process a new passport to temporary travel document for you. If you are getting married then a freedom to marry has to be obtained from the Embassy. This takes about 2-3 days to obtain. If you are divorced you will need the original divorce decree from the US.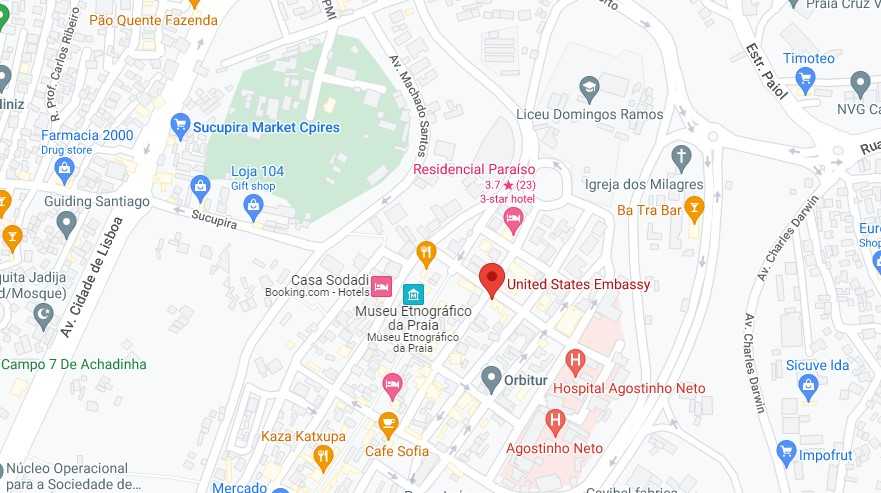 Finally if you gave birth in country then there is a process to register the child born abroad. See the article here under Americans born abroad. Note that the child first has to be registered in the Cape Verde as a birth. You can also find the same process in other country. See the US Embassy in Republic of the Congo as well as the US Embassy in Eritrea and the US Embassy in Ivory Coast.
US Embassy Praia
Address: Rua Abilio Macedo 6, Praia, Cabo Verde
Phone: +238 260 8900
Fax: (238)-261-13-55
Consular Section
US Embassy Praia
Address: Rua Abilio Macedo 6, Praia
Visa Section

Incoming search terms: