You can visit the US Embassy in Bermuda in Devonshire. If you need to register a marriage in Bermuda then the Embassy will be able to assist you in this regard. You can also ask about the services of a public notary and about applying for a US visa such as a K3 visa or K1 visa if you are not an American citizen.
US Embassy in Bermuda
If you have lost your passport or it is full then you can speak to them about adding pages to your US passport of apply for a new passport. The contact details and a map to the embassy has been listed below. There are also the telephone numbers, street address and the email details for the US Embassy in Bermuda.
Hamilton is the capital city of Bermuda, a British Overseas Territory located in the North Atlantic Ocean. The city is known for its colonial architecture, as well as its harbor, which is one of the largest natural harbors in the world. Hamilton is also a major financial center and a popular tourist destination, attracting visitors with its beaches, golf courses, and vibrant nightlife.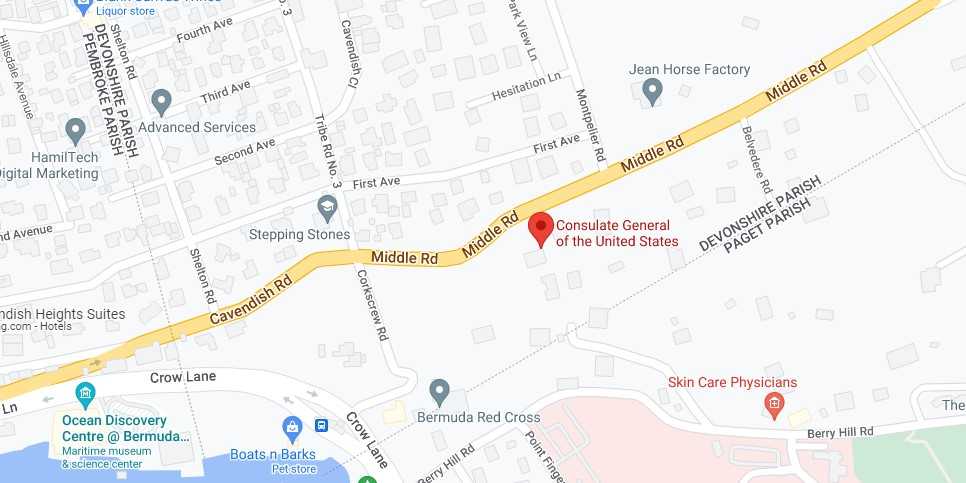 U.S. Consulate in Hamilton
16 Middle Road Devonshire, DV 03, Bermuda
Main Switchboard:  (441) 295-1342
For consular information recordings and all other general inquiries.
General e-mail address:  
Please e-mail the Consulate with any general inquiries. You may have and they will be forwarded to the proper department/person who will respond to you in due course.
Consular phone: (441) 705-0424, Mon-Fri 1:30pm – 3:30pm, to speak to the Consular section directly.
Consular Fax:  (441) 295-1592
Please send all consular correspondence (passports, immigrant and non-immigrant visas, arrests, deaths, etc.) to this number.
Duty Officer Phone: (441) 335-3828
Available outside of normal business hours and on weekends and holidays. This for American citizens only, regarding arrests, deaths or life threatening illnesses.
You can also see the details of the US Embassy in Austria as well as the US Embassy in Pakistan and the US Embassy in Sweden. Search this website for more information and assistance. See the sidebar for more information.

Incoming search terms: