This is the US Embassy in Sri Lanka. The Embassy of the US in Sri Lanka is in the city of Colombo and close to Mercantile Investment. If you wish to visit the US and are from Sri Lanka then you can apply for a tourist visa from the US Embassy. If you are wanting to take your Sri Lankan wife back to the US you can apply for a US Fiancee Visa or if you are married you can also apply for a K3 visa or a CR1 visa while your wife is in Sri Lanka.
US Embassy in Sri Lanka
Speak to the Embassy for more information. you can also apply for a new US passport at the Embassy and expect other consular services such as an American born abroad. Note that the US Embassy is located not far from the Indian Embassy in Sri Lanka. See also below the contact details for the visa section if you wish to visit America. This starts with the completion of the application form. You can see the DS 160 form where it starts as well as the requirements for the US tourist visa also on this website.
If you lost your passport then you must also report this to the police. The case number they give you. This will be needed when you apply for a US passport. The Embassy will need this. The immigration in Sri Lanka will also need this when you move your visa from the lost passport to the new passport. This is mainly for people who live in the country and not tourists.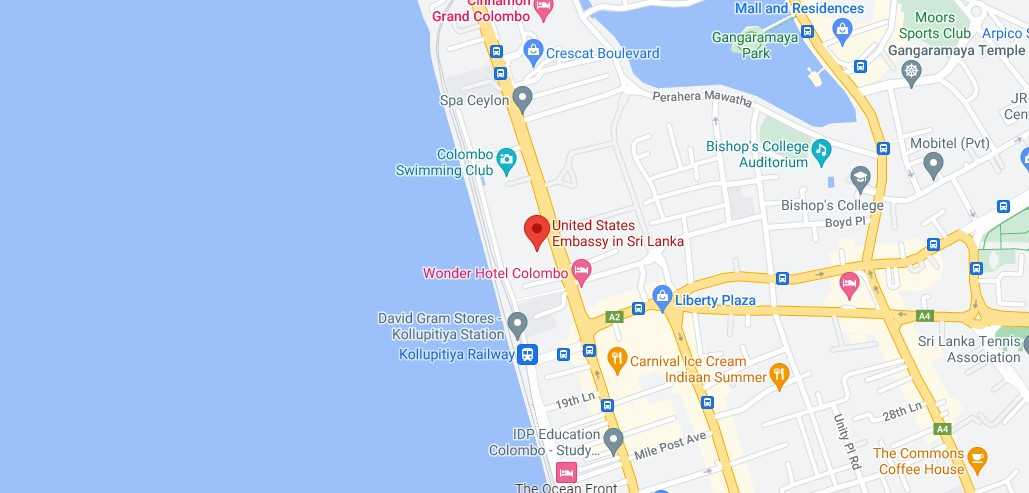 Details for the US Embassy in Colombo
Address: 210 Galle Road, Colombo 03, Sri Lanka
Phone: +94(11)249-8500
Fax: +94(11)243-7345

Consular Affairs:
The Embassy is located at 210, Galle Road, Colombo 03. The American Citizen Services section is open for routine services by appointment only on Monday and Wednesday afternoons. Please visit our online appointment system to schedule an appointment.

US Visa Applications
Dialing from Sri Lanka 94-11-770-3703
Dialing from the US 1-703-988-3469

See also the US Embassy in Morocco as well as the US Embassy in Nepal.
Incoming search terms: