T

he US Embassy in Tajikistan is now located in Dushanbe. If you are applying for a marriage visa such as the K3 Visa or a CR1 Visa you can apply for this visa at the US Embassy. If you have a fiancee in Tajikistan you can bring her to the US with a K1 Visa which will allow her to enter the US to get married to you within 6 months.
US Embassy in Tajikistan
The Embassy in Tajikistan also can issue a US passport for you if you are an American citizen in Tajikistan. See the telephone numbers for the Embassy as well as a map to the US Embassy in Tajikistan. If you are going to apply for a tourist visa then see where it starts at the completing the DS 160 form. This is where the visa application starts. There will also be a visa interview as well as the a check to see if you are ineligible to enter the US. The US visa processing normally takes approximately two working days. You will need to wait for the appointment date. See where the application starts online.
If you are getting married then you will need a letter of no impediment. This will allow you to get married in the country. Note that you will need to have your original divorce or death certificate of your last spouse. This needs to be handed in and you can collect your letter a few days later. This letter will need to be verified then translated and certified. Those documents are then used to register your marriage in the country.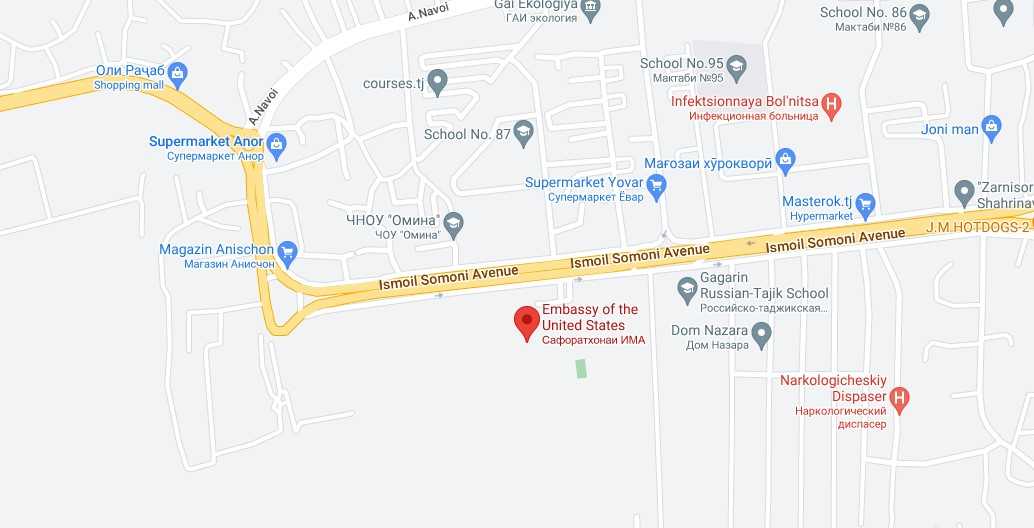 US Embassy Dushanbe
Address: 109-A, Ismoili Somoni Avenue (Zarafshon district), Dushanbe, Tajikistan 734019
Phone: +992 (37) 229 20 00, 236 03 06
Fax: +992 (37) 229 20 50, 236 04 30

US Visa Application
(Applicants must use the consular entrance on the left)

See also the eligibility to adopt in the US as well as the applying for a fiancee visa.
Incoming search terms: