These are the details for the US Embassy in Costa Rica. If you need assistance as an American the you can contact the Embassy. If you are going to apply for a US visa which is mostly the US tourist visa then see the process for that. You will also need to complete the DS160 form online for the US Embassy in San José. See the contact details below for a map, office hours and their telephone number and email address.
US Embassy in Costa Rica
If you are married to an American national and are going to work in the US. Then also ensure that you have completed the I-765 employment authorization, but more of that later. Firstly if you are on holiday and lost your passport then you will need to report this to police. They will give you a case number and report. This will need to be handed in at the Embassy when you apply for a US passport or travel document.
Secondly if you are getting married you will need show that you are single. This is done with a letter of no impediment. This letter allows you to get married. You will need to have your original divorce decree or death certificate of your last spouse. It normally takes 2 or 3 days to get this letter once you apply for it. From there you will need to get the letter verified and then translated if needed and certified again. You can then use those documents to get married.
Thirdly, now that you are married you need to apply for a spouse visa for your wife. See the articles on how to apply for a K3 visa as well as how to apply for a CR1 visa. You should know the difference between the two by now.
Finally note that those applying for the tourist visa. Note that the interview waiver processing is available for applicants who had a full validity B-1/B-2 visa that expired in the last 48 months.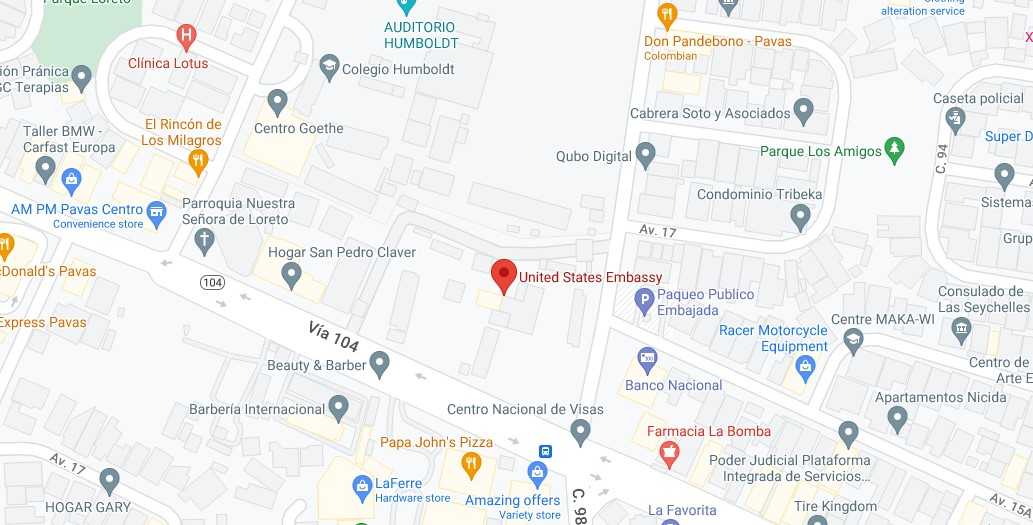 US Embassy San Jose
Address : Calle 98 Vía 104, Pavas, San José, Costa Rica
Phone: (506) 2519-2000
Fax: (506) 2519-2305
In case of an emergency call 2519-2000 Monday-Friday from 8:00AM-4:30PM.
For more information on their consular services you may also send an e-mail inquiry to .