The US Consulate in Monterrey is a vital diplomatic mission located in the city of Monterrey, Mexico. As one of the largest US consulates in the world. The consulate provides a wide range of services to US citizens living in or traveling to the region. Also note these are including visa and passport assistance, emergency services, and support.
US Consulate in Monterrey
Additionally, the consulate plays a crucial role in advancing US-Mexico relations by promoting economic development, trade, and investment in the region. With its staff of dedicated professionals, the consulate works closely with the Mexican government, local business community, and civil society organizations to address a wide range of issues, including security, human rights, and environmental sustainability. You can also see the CR1 visa on here as well as the i134a form and CR1 visa interview questions.
The consulate also supports cultural and educational exchange programs to promote mutual understanding and respect between the two countries. Overall, the US Consulate in Monterrey serves as an essential link between the United States and Mexico, providing vital support to US citizens while promoting the shared interests of both countries. See also the US Consulate in Guadalajara as well as the US Consulate in Ciudad Juarez and the US Embassy in Mexico City. There is also the US Consulate in Matamoros as well as the US Consulate in Hermosillo.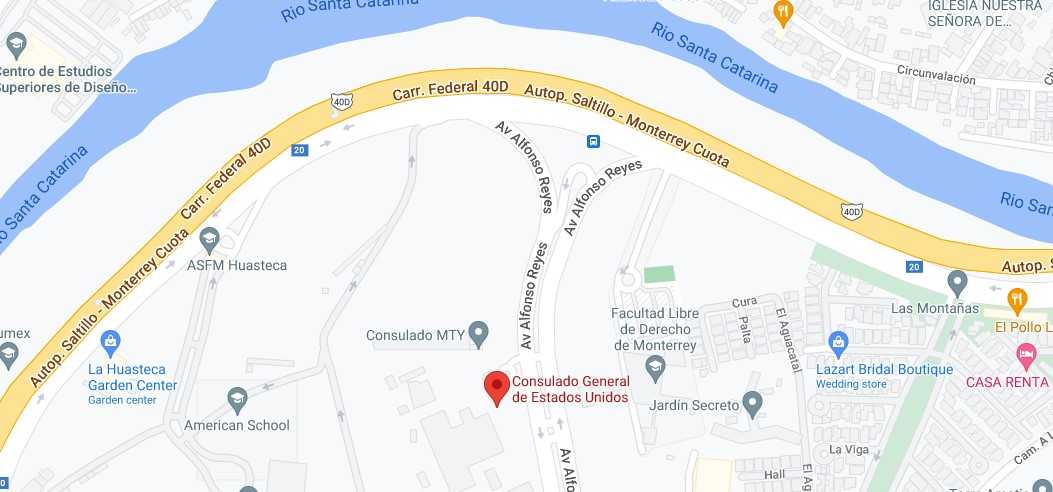 US Consulate General in Monterrey
Prolongación Ave. Alfonso Reyes #150
Col. Valle del Poniente
Santa Catarina, Nuevo León
México 66196
Phone: (+52) 81-8047-3100
Fax: (+52) 81-8342-5433