The US Embassy in Mexico City is one of the largest and busiest US Embassies in the world. As the primary point of contact between the United States and Mexico, the embassy plays a crucial role in advancing bilateral relations between the two countries. With a staff of over 1,000 employees, the embassy provides a wide range of services to US citizens in Mexico.
US Embassy in Mexico City
Likewise this is including visa and passport assistance, emergency services, and consular support. See also the article on Americans born abroad on here. The embassy also works closely with the Mexican government to address a wide range of issues, including trade, security, and migration.
Additionally, the embassy is involved in a variety of cultural and educational programs. This to promote mutual understanding and respect between the two nations. Overall, the US Embassy in Mexico City serves as an important symbol of the strong and enduring relationship. This between the United States and Mexico. Likewise note that that Embassy is also close to the British Embassy in Mexico as you can see from the Google map. See also the US Embassy in Bogota. Likewise you can also see the US Consulate in Tijuana as well as the US Consulate in Nuevo Laredo. Also the details of the US Consulate in Nogales has been added on here.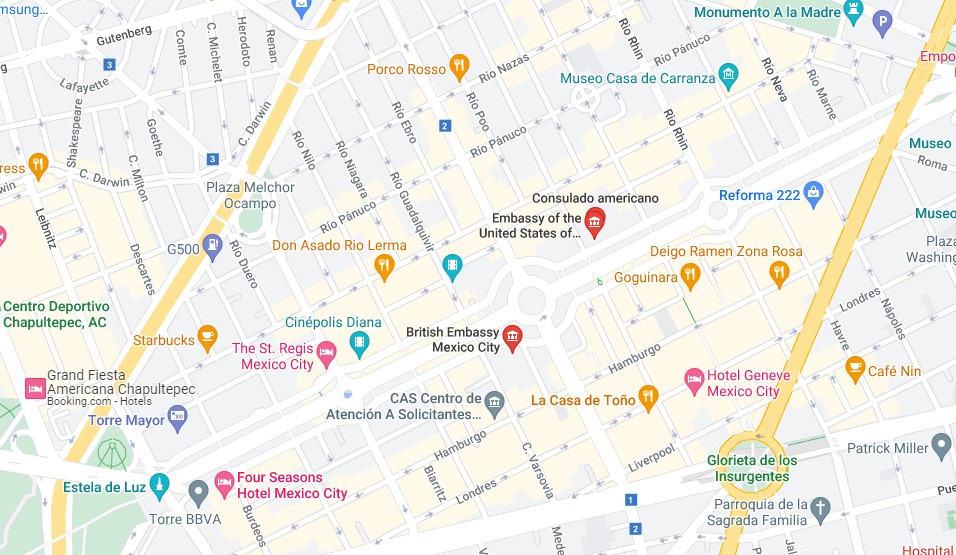 US Embassy in Mexico
Paseo de la Reforma 305
Colonia Cuauhtemoc
06500 Mexico, D.F.
Phone: (+52) 55-5080-2000
Fax: (+52) 55-5080-2005