The American Embassy in Algeria is located in Algiers and listed below including their contact numbers, a map to the Embassy and also their telephone numbers. The Embassy can issue you with a US visa such as a fiancee visa or your Algerian fiancee or a K3 Visa for your Algerian wife.
American Embassy in Algeria
Speak to the Embassy about other consular services such as marriage registration, renewing your passport or registering a death while in Algeria. You can also apply for a US passport at the embassy. See a detailed report on Algeria travel advice listed. Note that the US Embassy is not that far from the British Embassy in Algeria. The details are below.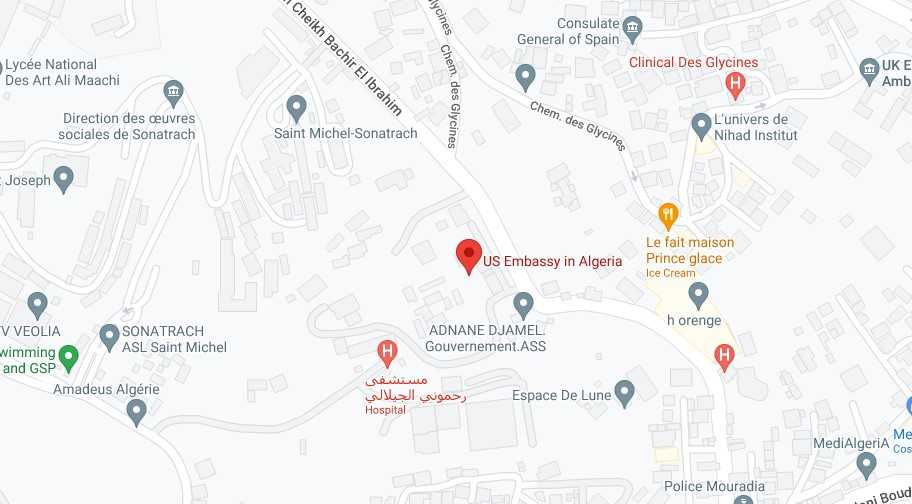 US Embassy Algiers
Address : 05 Chemin Cheikh Bachir Ibrahimi, El-Biar 16030, Alger Algerie
Telephone: 213 (0) 770-08-2000
Office Hours : Sunday-Thursday, 0800-1700, except holidays . For after-hours emergencies, a duty officer is available.
If you have a routine inquiry about American Citizens Services in Algeria, please email us at: 
If you are an American with an emergency in Algeria, please call: Telephone: 0770-08-2000

US Visa Tourist Visa
For questions about applying for Non-Immigrant (Visitor) visas, contact our contract visa service provider at:  or call :213 982 402 688
US Immigrant Visa
If you have a pending Immigrant Visa petition, but the case is not yet scheduled at the U.S. Embassy in Algiers, please use the on-line NVC Contact form.

See also the documents for the US spouse visa. There is also the US Embassy in Egypt as well as the US Embassy in Guinea.
Incoming search terms: