See the details of the US Embassy in Burma. In Burma and in need to assistance then the contact details for the US Embassy in Burma has been listed below with a map to the Embassy in Rangoon. Note also the emergency contact details for American citizens in Burma listed below which should only be used during an emergency while in the country.
US Embassy in Burma
Note the telephone, email and a map to the Embassy has been added below. Call or email the Embassy before you go to ensure that you have all the needed documents for assistance. Also note that the US Embassy is large and cant be missed not far from the Korean Embassy in Burma.
Kamayut Township where the Embassy is located is a neighborhood in the city of Yangon (also known as Rangoon). This is the largest city and former capital of Myanmar (also known as Burma). Kamayut is located in the northeastern part of Yangon and is considered one of the more upscale residential areas in the city.
Note that the area where the Embassy is located is home to many embassies, upscale shopping centers, and high-end residential properties. Kamayut is known for its tree-lined streets, parks, and lakes, making it a popular destination for those looking to escape the bustling city center. Also see that this area in town is considered relatively safe, with a low crime rate.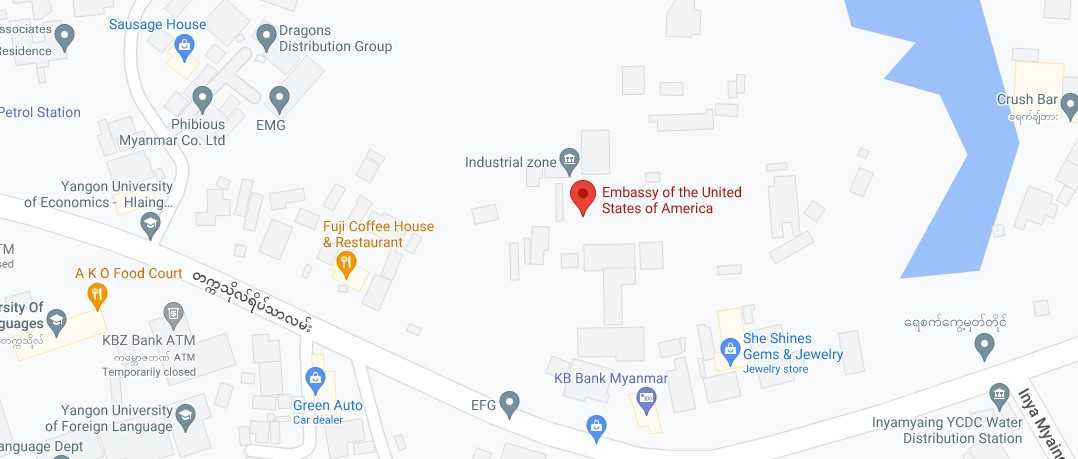 If you have lost your passport while in town you will need to report this to the police. The case number they give you will be needed for the new passport application. If you are getting married you will need a freedom to marry letter from the Embassy. This take a few days. Once you have it it will need to be translated and certified before it is accepted by the government to register your marriage. See also the US fiancee visa process and the applying for a K1 visa process as well. You can also see other Embassies in the region such as the US Embassy in Cambodia as you can see.
Details of the US Embassy in Burma
Address: 110 University Ave, Kamayut Township, Rangoon, Burma
Business Hrs: 08:00am – 4:30pm (MON-FRI), except for Embassy Holidays
Phone: (951) 7536509
Fax: (95)-(1)-7511069

Incoming search terms: